Your menu has been organised, a well renowned chef has been hired, the perfect location has been chosen, your theme and target market have been decided. Now how about your interior plans? It becomes imperative to consider the interior design, carefully picked out flooring and extravagantly simplistic interior wall finishes for your business endeavour to bear fruitful outcomes. Studies show that the choice of interior design, unequivocally influences a visitor's satisfaction. For your restaurant to receive the well-deserved recognition and preference, it is important to focus on the restaurant dining environment for definitive customer satisfaction and a long term standing in the competitive food industry.
The comfort of your guests can be determined from the ratings given to you by them. It is very important for every restaurant to encourage the culture of feedbacks from their customers as these feedbacks and suggestions can vitally change the entire outlook of your restaurant. The food, atmosphere, service, time taken to complete the order or clear the table, are few of the many determinants that make your restaurant most likely to stand out from the rest of the options elsewhere. The likelihood of a customer to come back for your food and service immensely depends on how well you cater to their needs. Ambience is the most dominant factor amongst all. Customers not just pay for the food but for the experience. That's what significantly differentiates an order in from a dining out. You want your business to flourish in terms of its taste as well as the environment it encourages. Interior design becomes a crucial element to satisfy the same which must be meticulously catered to by restaurant businesses for a long-term success and growth factor.
Your planning must include how your customer is going to feel inside your restaurant. You must keep them in mind when carrying out your designing process. How much space do you need? You will need space for all these:
Main eating area
Private rooms
Patio dining
Entry and waiting
Service station
Bar area
Ensure you know what appeal you want for your restaurant. The questions asked here must be. will it be casual, high class, fast food etc. The planning and designing activities that were involved with creating your menu can be reflected in the way you plan your interior. If you are going with Chinese food, then you won't design the restaurant in a Mexican theme or 60s theme, will you?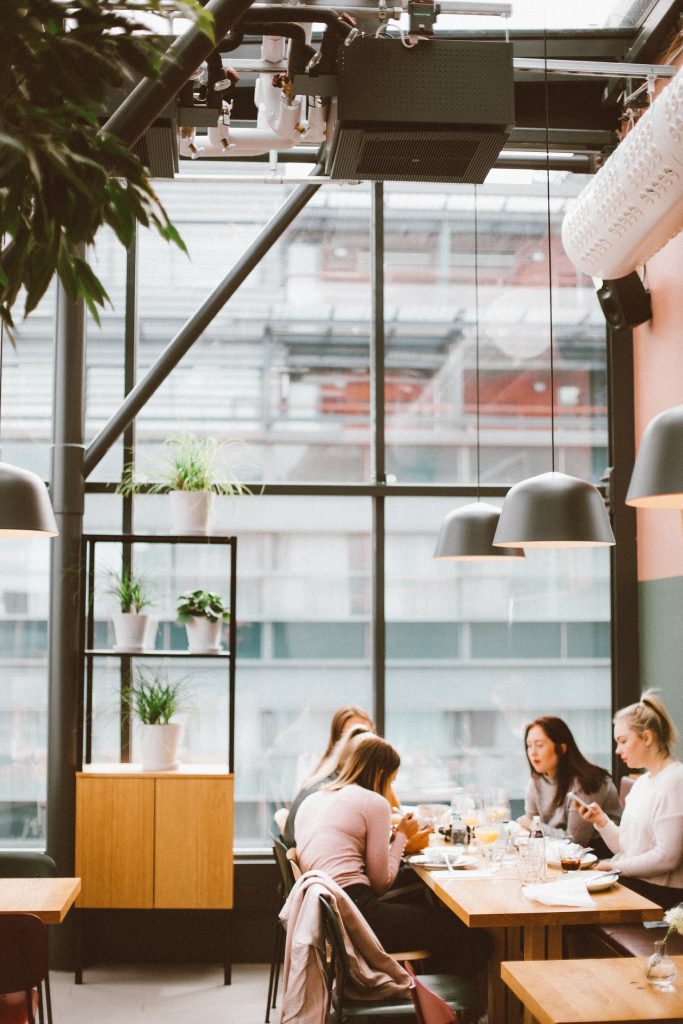 Colour is important
Colour is about to reflect a theme for your décor and feature walls. Colour is perception that is a connection to emotions so colour will play a role in how comfortable people feel. Red and yellow are popular as they are said to stimulate your appetite. If you have a fine, classy dining club then blue works well as it is relaxing and gives a feel of comfort.
Lighting
Lighting can have a huge impact when it comes to your restaurant and what feelings you want to bring about. Natural light is always a go- to and can never fail. Large windows give a more open feel and let more sunlight in. Sunlight makes people comfortable and relaxed and it is known to be beneficial physically and psychologically so people will have a better experience dining in. Fireplaces offer a relaxing glow and make people hang around, so these are good for those places that may have a log waiting time for meals. Downlight work well for modern lighting but may not match your theme being they are very plain and would work well in a fancy and classy place.
The design
Your layout and the space you have is important. You want to ensure the comfort of the spenders as they will be in your restaurant for a good amount of time and you want them to return. Don't place tables close together and maximise your space as best as you can. If you are unsure, you can always seek the advice from a professional interior designer. Ensure you are completely happy with the layout and space before any work is undertaken. You may require a permit for structural work so ensure you check this out before starting.