When transforming any traditional bathroom into a modern space, homeowners often consider their style and use the right fixtures. Bathroom remodelling creates elegance and increases the property's value. The building contractor might recommend high-quality stone tiles, lighting, bathroom fixtures, and decorations, and these are some tips to keep the quality of your renovated bathroom right for many years.
Planning is key
Whether you are a novice or expert in civil constructions, it's essential to plan. As part of the initial process of preparation, planning a renovation involves developing an architectural outline for the new bathroom. It also consists of research for all the materials and drafting of budgets before starting work. Start looking into which tiles you want; if you are after a modern bathroom look, then consider looking at terrazzo tiles. Preparation is vital in project management, and you might need to discuss the renovation with other residents if you live in a shared space. However, there should be a plan for miscellaneous spending because of unexpected expenditures in every project. Lastly, get remodelling contractors, installers and vendors' opinion on your chosen style and the cost implications.
Select an appropriate bathroom layout and fixtures
Renovations occur when the property owner is not satisfied with the existing fixtures or design. So, restoration often comes as a problem-solving approach with high expectations. Typically, project owners might be undecided on the choice of designs and appropriate layout at the initial phase of renovation. However, it's reasonable to consider the availability of space before designing a plan for the new bathroom. While renovating small spaces, developers need to have minimalist mindsets. Consider the need for electrical installations because rewiring is inevitable in renovations.
Before Fixing Wall and Floor Tiles
Many conservative homeowners tend to reuse sanitary ware when renovating. This is not viewed to be a wise move because the world might have moved past the design of such sanitary ware. However, it's essential to consider which models of the follow items suit your renovated bathroom before fixing wall or floor tiles. You can use a handy checklist to ensure that nothing is left out.
• Light fixtures.
• Toilet.
• Plumbing.
• Faucet
• Water Heater.
• Bath.
• Sink.
• Shower.
• Bathroom furniture.
Create a spa section
The creation of a spa section is ideal for bathrooms with big space. Always keep the spa design simple and use minimalistic colours that save money. Apart from bathing, the bathroom could be a place to detox and relax with a steam bath. There are unique bathtubs that offer chromotherapy to users, but don't forget to make the spa area cozy. Also, you can add special effects like a floor heating system, light dimmers, and massage furniture.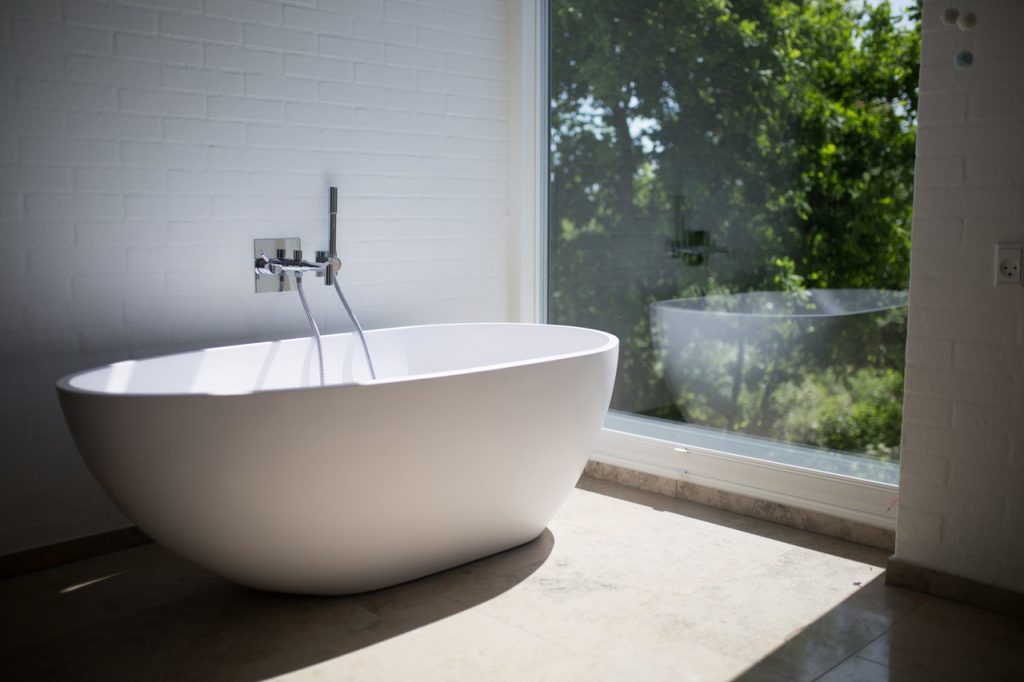 Don't forget to ventilate properly
It's essential to have the window at a strategic area of your bathroom that allows for daylight and proper ventilation. However, you might need to shut the window and use the central HVAC (heating ventilation and air conditioning) unit. Without adequate ventilation, your bathroom renovation might be a waste of money because of odour. A stuffy bathroom promotes damp, offensive smell, the growth of mould and mildew. Apart from the smell, mould and mildew degrade bathroom tiles, fixtures and furniture. Also, ask the contractor to consider frameless glass installations that will not reach the top of your bathroom's ceiling. Additionally, maintain minimal measurements like recommended spacing between bathroom fixtures. These requirements enhance the flow of air and ease of movement in the bathroom.
Consider tech gadgets
What's the essence of renovating your bathroom without hi-tech gadgets? There are varieties of smart home tech gadgets like wireless speakers, waterproof TVs, eco-friendly water heaters, bright lighting and temperature controls.
Mirrors create illusions
You can make smaller bathrooms bigger by installing mirrors at strategic points. However, the trend of frameless mirrors with heated pads behind them has come to stay. It's the heated pad that prevents the mirrors from misting up after a steam bath or when there's too much moisture in the bathroom.